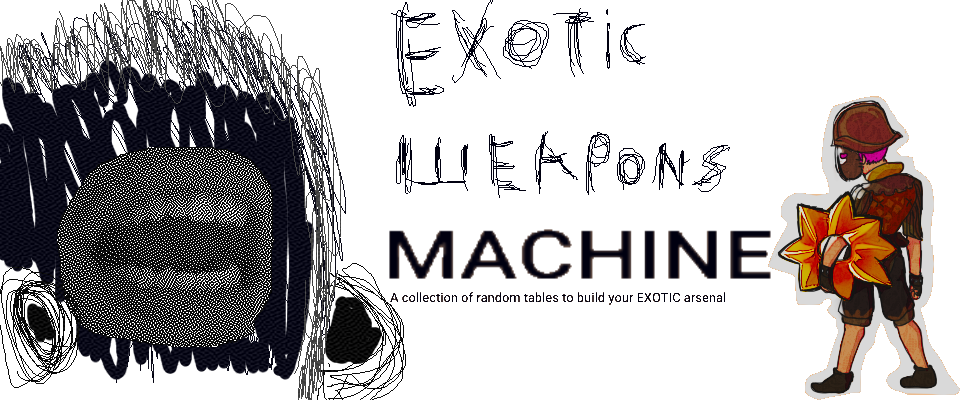 Exotic Weapons Machine
Welcome to the Exotic Weapons Machine (E.W.M), a collecion of random tables to build your EXOTIC weapon, highly inspired by manga and dumb but interesting weapons all around media. All you need to use the Exotic Weapons Machine is the PDF, an 8-sided die and a 6-sided die (or more).

Just follow the instructions presented in the document and randomly create your own weird exotic melee weapon with this simple guide! The Exotic Weapons Machine is a very simple random table that generates traits only, it's up to you to imagine what do they mean and build with you head what is your weapon.

DISCLAIMER: The Exotic Weapons Machine works only with melee and rarely throwable weapons; It is not the machine's fault you rolled a boring weapon or just has no imagination, roll again!
It's also a very ugly-looking.

THE EXOTIC WEAPONS MACHINE IS REAL, you can generate your own exotic weapon with the ACTUAL EXOTIC WEAPONS MACHINE, downloadable here and programmed by Rudá Costa/@SFstonedDracula.

This document is free and can be used and altered as pleased, but i would be happy if you mentioned me or left me some cents!
Images, drawings and art presented in this document are an exception and copyright belongs to their respective artists.
This document contains art by Rawr Arts (@IsabelaNoza), go check out her twitter!
Download
Click download now to get access to the following files:
Exotic Weapons Machine (PDF).pdf
73 kB
Exotic Weapons Machine (WORD).docx
138 kB
Actual Exotic Weapons Machine.rar
324 kB